YHN in Wash, DC & Meets Former Congressman, Jim Ryun
Your Hearing Now Meets Former Congressman, Jim Ryun in Washington, DC - November 30 - December 2, 2011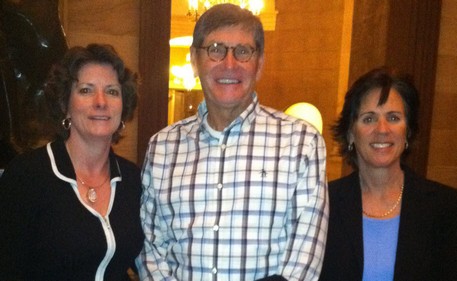 Maurya Hellane, Jim Ryun, & Louise Picard
Your Hearing Now was invited to Washington, DC for three days for training and a private after-hours tour of the U.S. Capital facilitated by former congressman, Jim Ryun, and his wife, Anne.
Jim Ryun is the originator of the Hearing Aid Tax Credit Act and served five terms in the U.S. House of Representatives from 1996 - 2006.
Jim and his wife Anne allowed us access to the floor of the House of Representatives as well as the Capital Rotunda, the Chapel, and the west portico where the last four presidents have had their inaugurations.
Among his many accomplishments, Jim is a three-time Olympian, world class record-holder in track and field, Sports Illustrated Sportsman of the Year and has graced the cover of Sports Illustrated seven times. He is not only a hearing instrument wearer but an advocate for those with hearing loss. We thank Jim and his lovely wife Anne for their generosity and kindness.