Your Hearing Now Attends Oticon's Empowering More People Training
2nd Quarter 2011 – Your Hearing Now Attends Oticon's Empowering More People Training May 25, 2011 in Sarasota, FL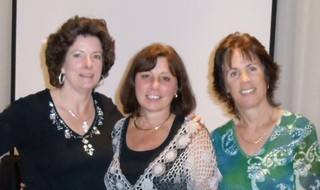 Your Hearing Now attended Oticon's Empower More People training, which focused on one connectivity system to empower everyone, led by Jo Ann Smith, Oticon Trainer (middle picture above).
Oticon ConnectLine is the complete connectivity system, which empowers people in more situations than any other solution available today. Barriers to natural communication disappear, as the user intuitively participates, just by touching a button on the ConnectLine Streamer.
ConnectLine is the ideal complement to all Oticon hearing instruments and it is the one system that puts the users back in control – whatever they are doing and wherever they are. It enhances communication across the board. It makes face-to-face conversations clearer and easier to manage. And it makes watching TV, listening to music and talking on the phone simpler and more enjoyable than ever.